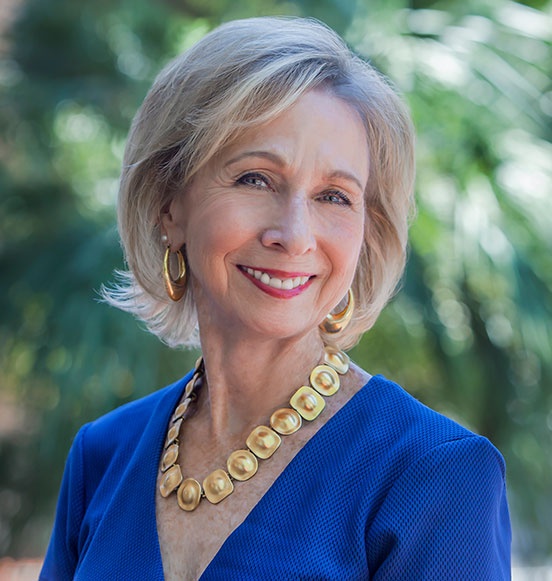 Marlena specializes in addressing the individual uniqueness of every home and knows how to take a home from "Oh" to "WOW"!
Sign Up TODAY to Get Your FREE Checklist: 5 Easy Steps for a Dramatic Room Makeover! 
Marlena specializes in addressing the individual uniqueness of every home and knows how to take a home from 

"Oh"

 to 

"WOW"!
Marlena's expertise provides that "ready-to-move-in condition" that home buyers are looking for and creates the emotional connection that buyers feel when they walk into a home and say, "This is IT."   If you want to do what I do as a home stager, go to the Staging Diva Program by clicking HERE
Master Bedroom
This spacious Master Bedroom was dull, uninspiring and with limited appeal.  It was "decorated" in all brown with mismatched lamps, white Venetian blinds, and no artwork on the walls. Clients still wanted brown tones so Marlena brought in a comforter that had a beautiful robin-egg blue color with a brown border with matching pillows and drapes. Beautifully framed photographs of the couple, candles, elegant lamps and artwork created a peaceful, lush and romantic setting.
Before                                                                                 

After
Living Room
A fresh start in a newly renovated home gave way to a crisp, contemporary look. The challenge for Marlena was to have a relatively small living room look bigger. This was done by complimenting the gray and white walls with a Sheridan Gray and white area rug placed vertically to elongate the space. Vibrant-colored pillows on the charcoal gray sofa with silver and gold wall accessories finished the look. A bidding war brought huge profits!  
A "Whatever" Room
This downstairs guest bedroom was not well-defined or developed by the homeowners. It became a "catch-all" room with mismatched furniture. After my consultation with the clients, they agreed that they did not have time or the imagination to "fix it up." They decided that they wanted to create a luxurious guest bedroom that could ultimately be used as an Airbnb. A complete transformation occurred with rich brocade drapes, pillows, a rug, artwork and accessories.
Before                                                                                 

After
Guest Room
Liz, her husband, and two boys had a "guest room" that was far from being a guest room. Liz confessed to Marlena that she often closed the door when friends came over because the room was such a "disaster." Marlena met with Liz and established a purpose for the room, a budget for the transformation, and timeline. Liz definitely wanted to have this room represent "Family." Needless to say, the completed project brought the transformation and peace of mind that Liz wanted—all under budget and within the timeline they established.
Before                                                                                 

After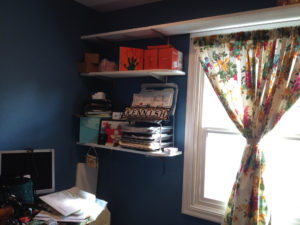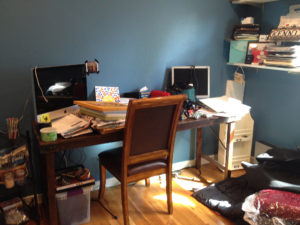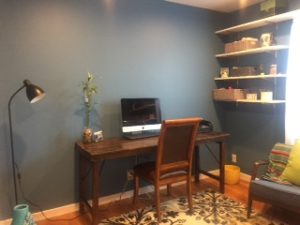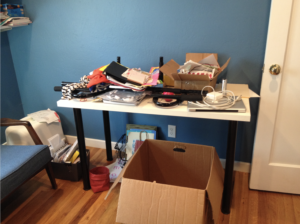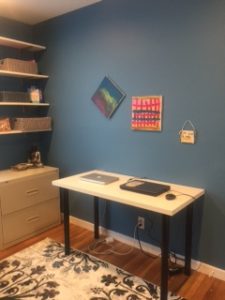 On-time and below budget!!! Less stress having everything organized!
An office that wasn't an office! It turned into a room that inspires Mom and Dad and kids to do their work and be together as family.d!
Liz shows the home office transformation that includes a homework station for the kids and computer desk for the parents.
Living Room
Using some existing furniture and adding a rug, accessories and artwork, Amazing-Staging transformed this apartment into a "home away from home" for visiting professionals.
Dining Room
This was a fun project to do! The client started off with just a table and four chairs and wanted to have a warm, inviting dining room setting for their friends and family to enjoy. It was easy for me to see that the client already had several things that we could use to make things happen. It was just a matter of rearranging items such as the circular rug that was in another room and place that under the dining room table for starters. This totally warmed up the space. From there it was a matter of bringing things together to make a warm, and inviting look that was simple and elegant at the same time.
Before                                                                                 

After